There are some products that are expensive but easily replaced by a comparable drug store product. This is not one of those products!
I'm talking about the
Clarisonic Mia 2
. For years, I held off from purchasing (first the original Clarisonic, then the Mia, and then the Mia 2...), reading great review after great review for this little device. I tried the cheaper Olay version and wasn't impressed. I sunk more money into products promising to do what the Mia promises to do: gently exfoliate, shrink pores, clear out acne, and leave your skin soft and bright.
Then I realized, what am I doing?! With all the money I've spent on this cleanser and that mask, I could've just bought the darn Mia by now!
So ladies, I'm here to tell you the Clarisonic Mia 2 is truly worth the splurge.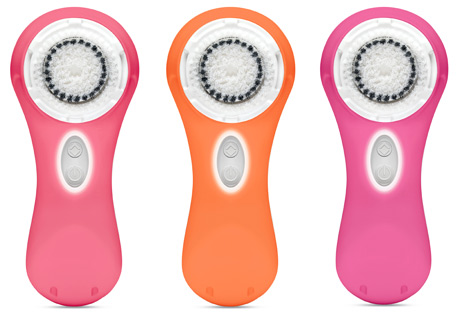 This image makes me want a fruity drink
First off,
what's the difference between the Mia and the Mia 2?
The Mia 2 has features that were originally only available in the full size Clarisonic cleanser: more than one speed, a timer, and a travel case. I could live without the timer and the travel case, to be honest, but I can't live without the two speeds. More on that in a minute. The Mia 2 also comes in some really cute colors.
I've had my Mia for about 5 months.
What differences have I noticed in my skin since I began using it?
The very first time I used it, I was blown away. My skin felt so clean and I could immediately see that a lot of dead skin had come off. I have very dry, sensitive skin. Unlike a lot of exfoliators, this one didn't leave my skin feeling tight or irritated and red. I have large pores, and I can see a difference in the size of my pores over time for sure. I also notice that my already infrequent acne has basically disappeared. I get maybe one blemish a month.
You won't be able to stop touching your face!
After I used it for the first week, my fiance was lovingly stroking my cheek before bed one night, and he said that my skin felt softer than it ever has and asked me if I was doing something different. Now, I love him, but my fiance is not the most observant person on the planet. If he noticed, there was a big difference.
How do you use it?
I use it in the shower in the morning and at my sink at night. Yes, even with my incredibly sensitive dry skin, I can use this twice a day without issue. It's something I look forward to doing. In the morning, I use it with
Cerave Hydrating Cleanser
. I find this cleanser really hydrates my skin and preps it for my makeup by smoothing out any dry or rough patches. This cleanser is designed for sensitive skin, so it's fragrance free. At night, I use it with
Philosophy Purity Made Simple
. This stuff takes off every bit of makeup in about 30 seconds without bing stripping or drying. The scent is very gentle and doesn't irritate. I find that now that I'v used it at night for so long, the scent calms me and gets me in a bedtime zone!
I use the slower speed in the morning. Why? Well, I already took my makeup off the night before. My goal with morning cleansing is to clean off any oil or dry patches from the night of sleeping and to increase circulation to my skin. I want a clean, smooth surface for makeup.
An unexpected result? I use less makeup
. I don't need to use very much liquid foundation at all now. My concealer is just used for my undereyes, because I have really bad genetic dark blue undereye circles. I find that I can get a nice smooth surface without piling on layers of makeup.
I use the faster speed at night when I really want to take my makeup off and cleanse away the day. I find I only need about 30 seconds for the makeup to be gone, and I use it for another 30 seconds or so just because it feels good. I then put on my moisturizer, and it's off to bed!
Brush heads
. I use the
sensitive/delicate skin brush heads
. I find that they really cleanse well without being rough or irritating. Amazon has the best price of any place I've seen because you get two in a pack. I replace the brush head every three months.
I really can't recommend this product enough. It's changed my skin for the better, and I don't intend to be without it ever again. You invest hundreds of dollars into clothes and shoes, but you wear your skin every day. That's what changed my thinking on the splurge of this product. I have to show my skin to the public every day. It's worth the investment.
Check it out:
Clarisonic Mia 2
,
Philosophy Purity Made Simple Cleanser
,
Cerave Hydrating Cleanser
, and
Replacement Brush Heads