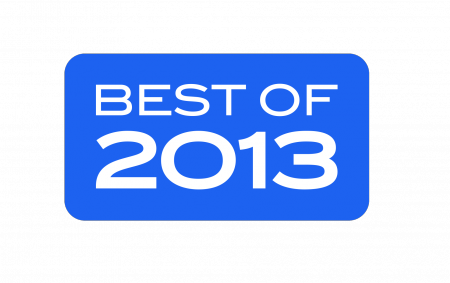 Happy New Years Eve gang! The clock is nearing midnight here, but I thought it'd be nice to wrap up 2013 by sharing the products that I couldn't be without in 2013 that I'll be carrying with me happily into 2014. This is a pretty short list because these are products that I use at least 4-5 times per week that I can always count on. That's a high standard I think, so the list reflects that.
1)
Suave Professionals Captivating Curls Whipped Cream Mousse
No surprises here! This is an absolute all-time favorite of mine. You'll know whenever they discontinue it by the sound of wailing and sobbing coming from the US East Coast. What can I say about it? It's CHEAP. Less than $3
on Amazon
and in stores. It is unlike any other mousse, so if you think you hate mousses, think again. It literally melts into the most perfect, creamy texture when you rub your hands together. It absorbs effortlessly when you scrunch it into sopping wet hair. No crunch, it's nearly impossible to overdo it, and it doesn't weigh down my very fine hair. I do not intend to be without this product even once in 2014.
2)
Kinky Curly Knot Today
Leave In Conditioner
I've been using this leave in for years. It makes my tangles disappear with no effort. It provides a wonderful base for my other products. It has a light scent and doesn't weigh my hair down. Note though that I don't use this for moisture. It's not moisturizing enough on its own to nourish dried out hair. But it's wonderful for giving you a nice, even base before you style. At around $12-16 for a bottle depending on sales, it's a bit pricey but a bottle lasts me a year because I don't need a ton to work through my tangles. Definitely a staple in my product rotation for a long time to come.
Check it out here!
3)
Denman Brush
I've used a Denman brush for years. I'll never go back to the ball and spokes style paddle brushes of high school years past. These brushes are gentle, durable, and an amazing value. I notice a huge difference in how my scalp feels when I use this brush and I definitely noticed a huge reduction in strand breakage when I switched back in college. A really simple change that can make a big difference. There are lots of size options but I personally like
the 9 row for everyday.
4)
Microfiber/Flour Sack Towels
I have bunches of these. The ones I'm using right now are
the
Aunt Martha's flour sack towels
. I apply all my products to sopping wet hair, usually in the shower. But the problem is that applying to soaking wet hair means when you're done applying, your hair is still soaking wet! Normal cotton towels wick away too much product and moisture, and the rough up the hair cuticles causing frizz. Flour sack towels and microfiber towels prevent frizz and leave product where you want it while taking away a good amount of water to decrease your drying time. If I air dry with products without scrunching with a towel, it takes about 4 hours to get my hair totally dry. With the towels, my dry time is cut in half. They're a must for natural curls.
5)
Spiral Solutions Curl Enhancing Jelly
Spiral Solutions
is an Etsy company that makes natural hair products. I have loved everything I've tried from them (I've used the Deeply Decadent deep treatment with great success, the protein treatment, and the firm hold gel as well). But this product takes the cake. It's a medium hold product on my fine hair but some might call it light hold. It gives my hair incredible shine, it's all natural, and it really holds up well in lots of weather conditions. It's a bit of a splurge, but I only use about a dime sized amount on my hair, so a bottle lasts me a good 6 months+. If I'm not using my Suave mousse as my styler, I'm using this.
What were your holy grails from this year? Let me know below!